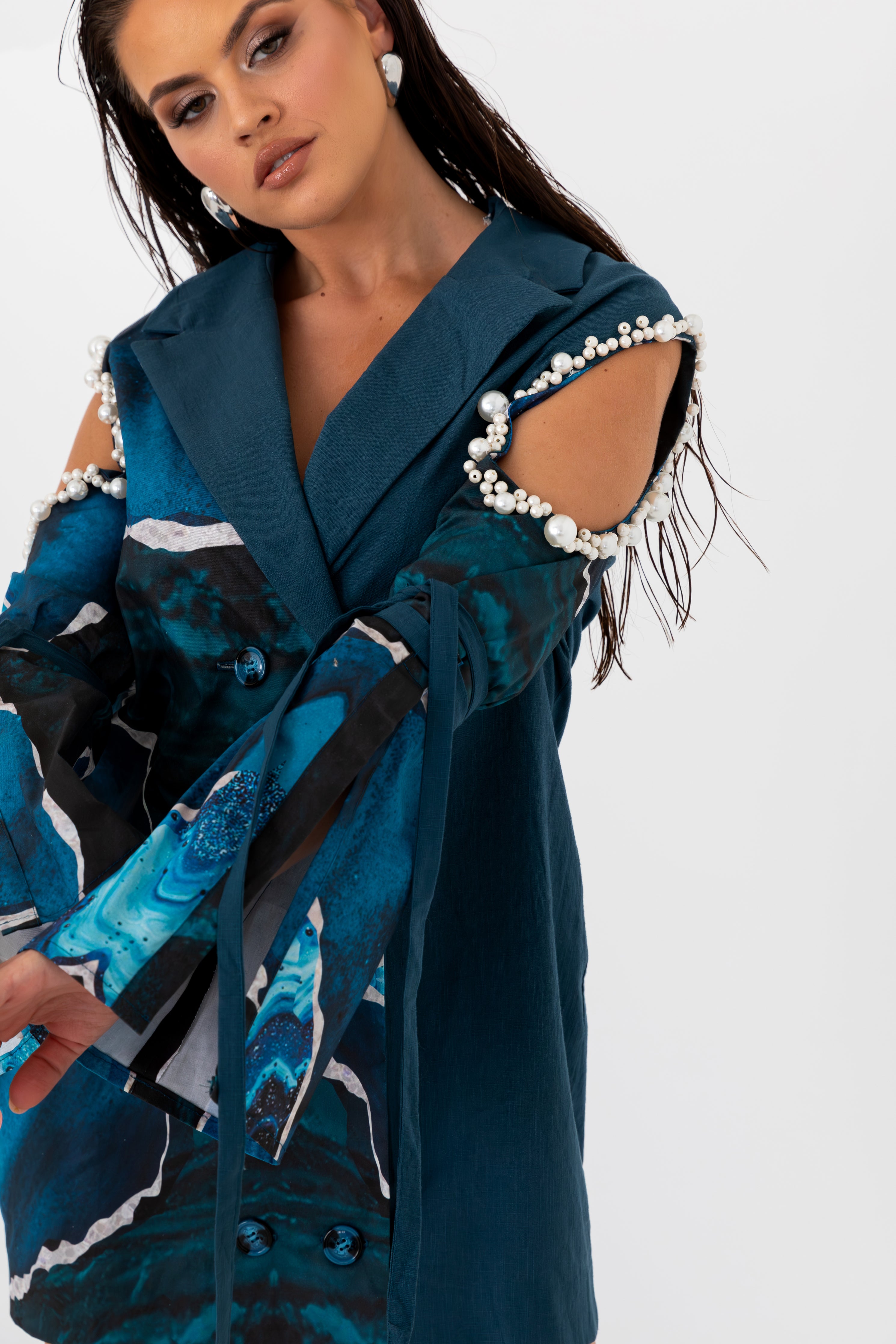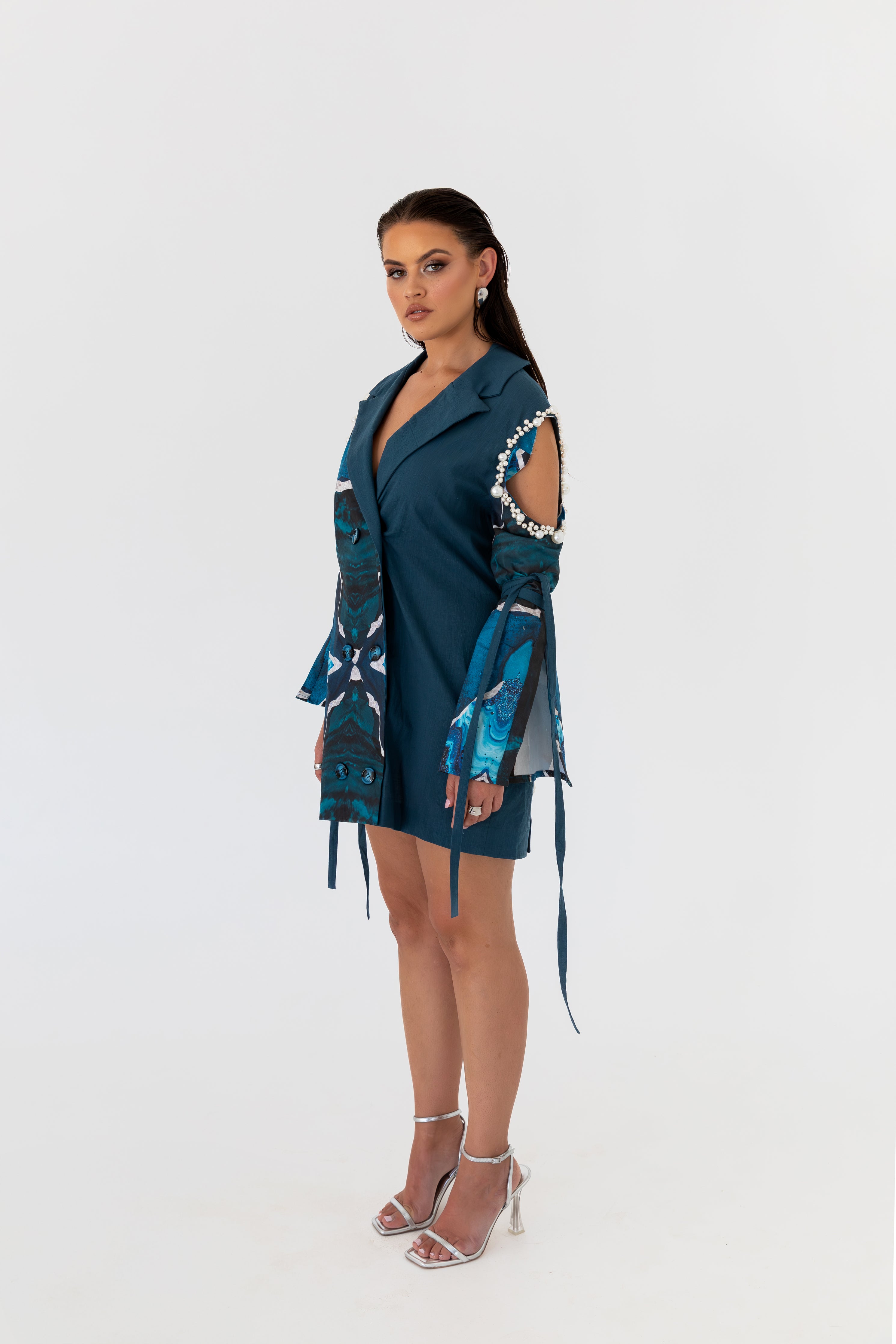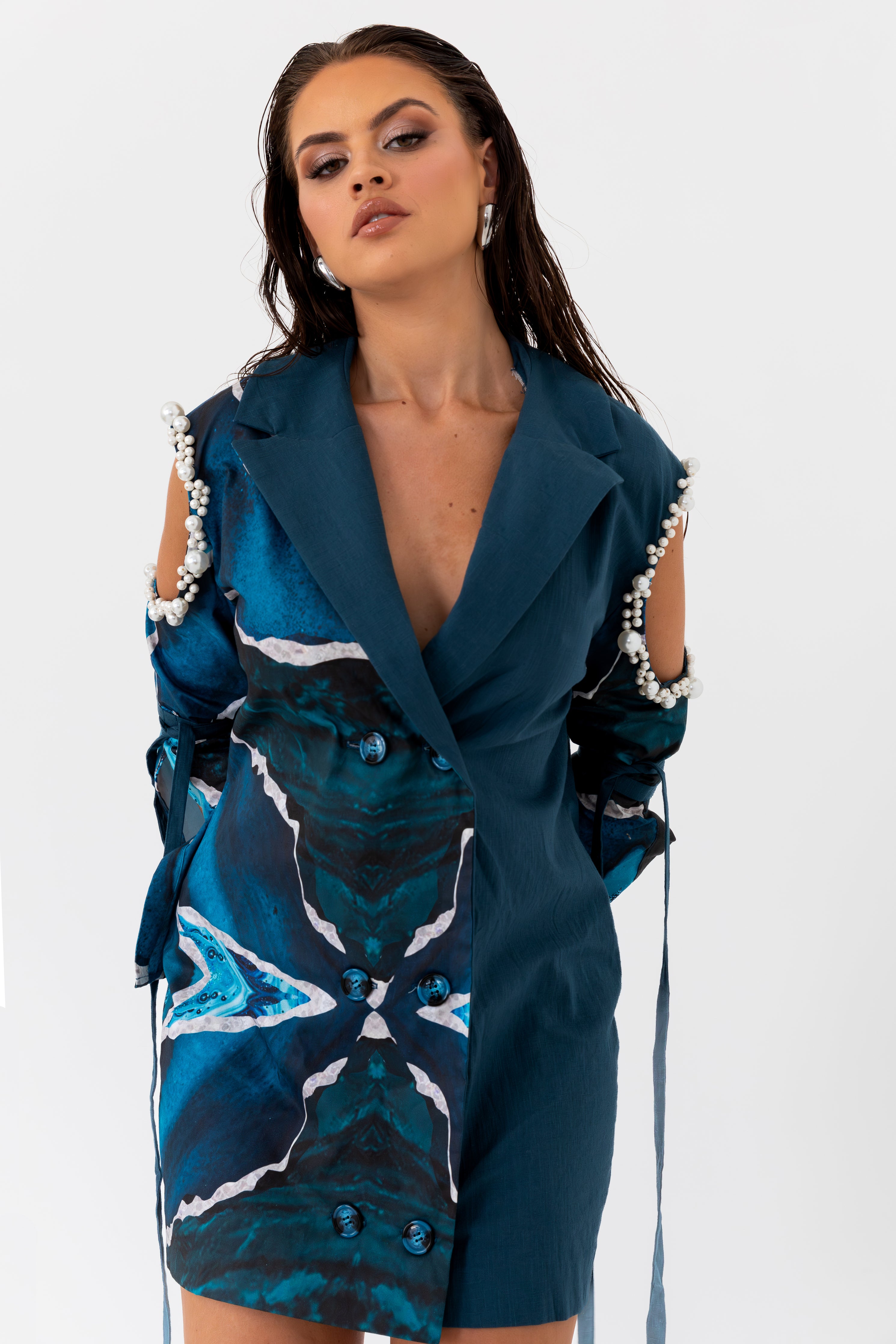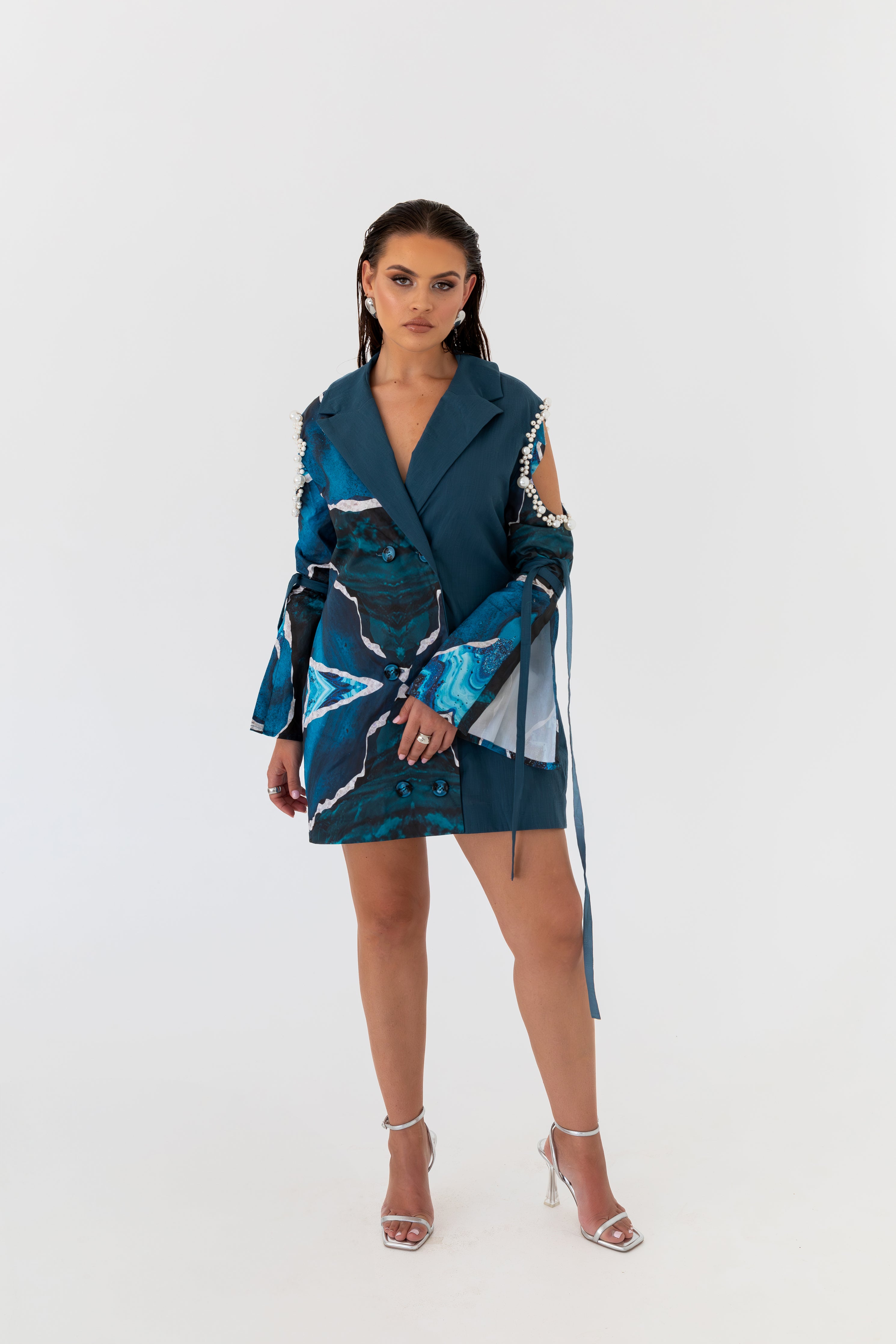 Tidal Mosaic Oversized Blazer
Sale price

$939.00
Regular price
(/)
Please note this is a pre-order product. Please allow 2-6 weeks for this product to be made and shipped to you.
Introducing the Tidal Mosaic Oversized Blazer, a striking fusion of artistry and sophistication that effortlessly transforms any ensemble into a masterpiece. This teal-hued blazer, adorned with a mesmerising tidal-inspired print, is a versatile canvas for your style expression, bridging the realms of fashion-forward innovation and timeless elegance.

The Tidal Mosaic Oversized Blazer isn't bound by conventional norms; wear it as a chic outer layer, style it with a skirt or pants, or embrace its transformative nature and let it shine as a captivating dress. The asymmetrical back vent, embellished with delicate pearl beading, adds a touch of opulence and intrigue, ensuring you turn heads with every step.

The split hem sleeves boast long, thin straps, offering a playful styling option. Leave them gracefully hanging for an easygoing vibe or wrap them around your arms to craft a personalised look that mirrors your unique style. The shoulder cut-outs, adorned with additional pearl beading, add a contemporary twist to this asymmetrical design.

Featuring both printed and plain-coloured fabric panels, the Tidal Mosaic Oversized Blazer is a visual symphony, seamlessly blending dynamic patterns with solid sophistication. Fully lined for comfort and durability, this blazer is more than an outfit – it's a statement, a tidal wave of style.
TIDAL MOSAIC PRINT

In crafting the prints for this collection, the profound influence of water served as our wellspring of inspiration.

Tidal Mosaic, bathes in the tranquil palette of teal and deep blue, took a digital voyage, navigating the intricate mosaic technique to capture the essence of light dancing upon an unsettled body of water.

With each pixel meticulously placed, it harmoniously mimics the radiant play of reflections in this fluid realm, delivering an artful embodiment of aquatic beauty.

Printed locally in Melbourne, Australia.
---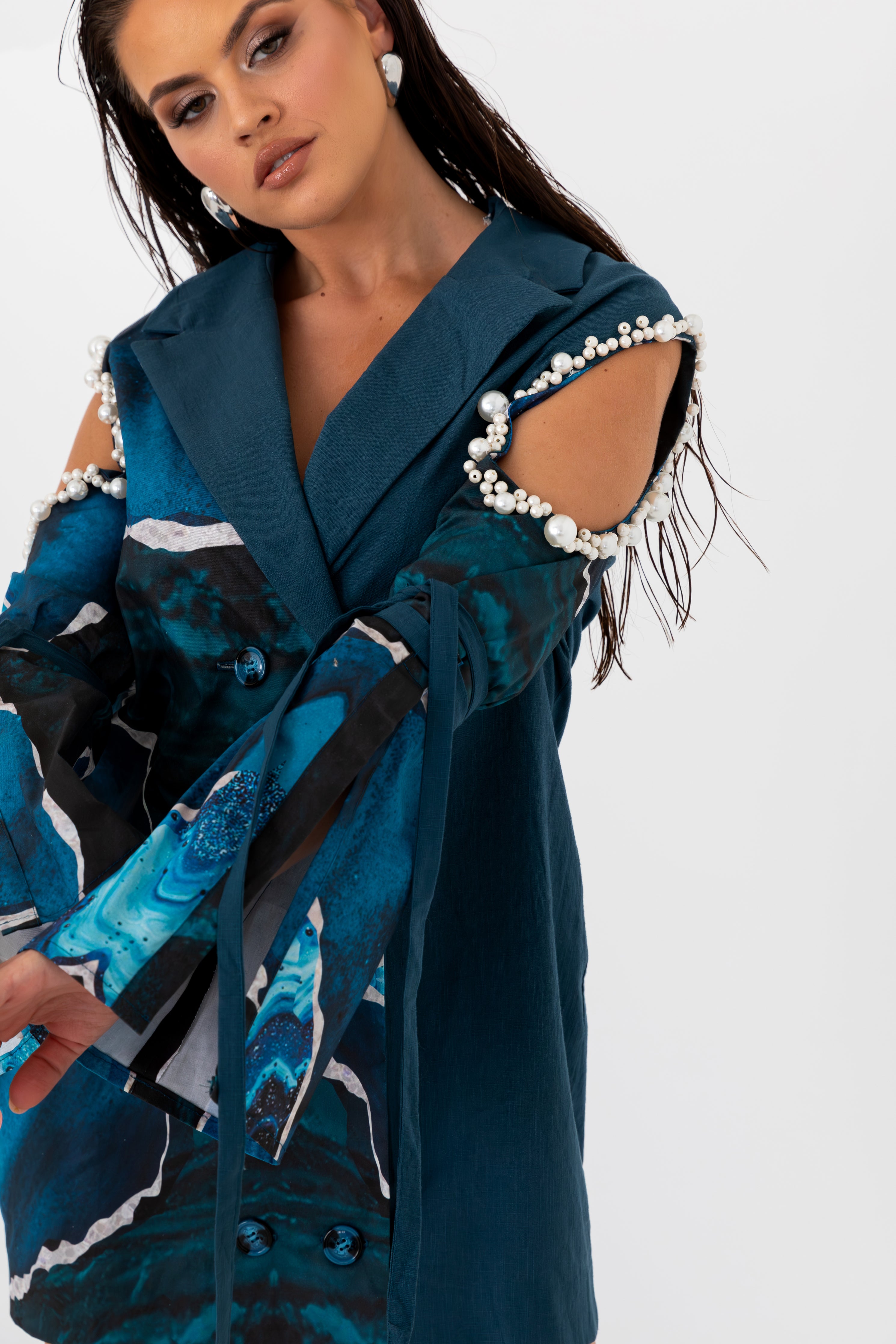 Tidal Mosaic Oversized Blazer
Sale price

$939.00
Regular price
Choose options